The earliest fitness bands introduced a few years back counted just the calories and steps, but the makers soon realized that a massive market of fitness tracker for cycling was untapped. Here in this article, we will cover some of the best fitness trackers for cycling.
Fitness trackers have evolved greatly over time and their popularity has increased more than ever. The latest of these devices come with tons of features and functions aimed at the specific activity, and even though there have been plenty of questions raised on their accuracy, they are considered an essential for most fitness junkies.
The Best Fitness Tracker For Cycling – What You Should Know?
The best fitness trackers for cycling are those that offer the basic cycling stats. The market is full of activity trackers ranging from simple ones to more sophisticated, expensive devices that come packed with all the advanced features.
In short, there is a fitness tracker for every cyclist, however, varied his requirements or budget is.
Today, we look at some of the best choices for fitness trackers that cyclists can choose from to get the most out of their sport.
Polar V800
Though launched six years back, Polar V800 remains the go-to fitness tracker for cyclists, runners and other sports enthusiasts. It is a rugged GPS-enabled watch that supports multiple sports, has an excellent battery life and a number of smart coaching modes.
It looks great and can be worn anywhere and is capable of tracking whatever you do. You can also use it in the shower or pool.
The display is tough, easy to view and responsive. There is a backlight to allow viewing during night time activities. It has a stainless steel body and rubber strap for durability.
The textured finish on the buttons makes sure you can use it well even when your fingers are sweaty. The device offers smart coaching features to help create personalized routines based on the distance you want to cover.
The GPS tracker is pretty accurate and keeps track of the distance you have covered, the speed you are moving with and the routes you take.
It comes packed with a powerful battery that lasts for up to 13 hours with GPS and 50 hours in low power mode. It is overall a great choice for cyclists who want to stay on the top of their activity tracking.
Garmin Vivosport
This basic, simple-design fitness tracker is a great choice for cyclists. It loads all the essential functions in a slim design to provide accurate, reliable route tracking. It comes with GPS and tracking features to monitor workout, heart rate, sleep, calories burned and stress level.
What makes it ideal for modern users is the all-day stress tracking feature that helps stay updated on the body's response to stress sources.
Garmin Vivosport boasts a slim, thin, sporty design that suits all-day use and complements any outfit. It comes with an always-on Chroma display colour touchscreen that is bright and responsive to view clearly outdoors. It comes in two size options and three trendy colour combinations to choose from.
Once you connect the device to your phone, you can control music, get emails, app notifications and text messages and enjoy many handy features right on your wrist.
The device supports auto sync so all your activities are uploaded automatically to Garmin Connect. You can share and compete with other cyclists and active users on this online community. You can let your friends follow your activities with the LiveTrack feature.
Fitbit Charge 4
One of the latest models from Fitbit, the Charge 4 has a built-in GPS functionality to let cyclists see the distance covered and pace right on the screen during the ride. It also shows the workout intensity map and helps you see how your heart rate changes along your ride. There is a new feature called 'Active Zone Minutes' that sends you a notification when the target heart rate is reached.
The device has a small touchscreen which is quite responsive to touch on dry as well as wet hands. It has a waterproof design and can withstand sweating and some rain splashes when you are cycling.
The battery lasts for up to 7 days and for up to 5 hours when using GPS. However, some users report that the battery life is shorter when used actively on a regular basis.
Fitbit Charge 4 comes with a 90-day free trial of Fitbit Premium that helps you monitor fitness parameters and make the most out of your active lifestyle.
It offers a continuous heart rate monitoring and the measure of calories burned. It can also play your favourite songs and get notifications for texts, calls and apps from your phone.
Willful Fitness Tracker
This is a pocket-friendly fitness tracker that takes care of basic cycling tracking requirements. The Willful tracker comes with 14 exercise modes that include running, walking, basketball, cycling, yoga, dancing and more. You can connect the device to your smartphone and start tracking your outdoor route in the app that comes for free.
This fitness tracker also covers useful features like 24/7 heart rate monitoring as well as sleep tracking to stay on the top of your health. It has a waterproof design so you can wear it even in the pool and shower. It gets you all the notifications from your phone and can even control the camera. It has a battery life of up to 7-10 days.
However, it should be noted that the tracker does not come with built-in GPS and requires connecting to the smartphone to be able to track routes.
Fitbit Ionic
The first Fitbit model to incorporate GPS tracking, Ionic is an ideal choice for cyclists. The integrated GPS functionality with GLONASS allows seeing distance, pace and other important stats right on the display while recording the split times, elevation and route map. It also functions as a smartwatch and delivers you access to music, text and call notifications and payments.
Fitbit Ionic features a big watch face with metallic accents and bright display, making the tracker suitable for all-day wearing. You can use it for dynamic personal coaching to get on-screen guidance on your moves along with routines that suit your activities.
This feature feels like having a personal trainer always with you. It also plays and stores more than 300 songs right from your wrist. It also lets you create playlists and access Pandora stations.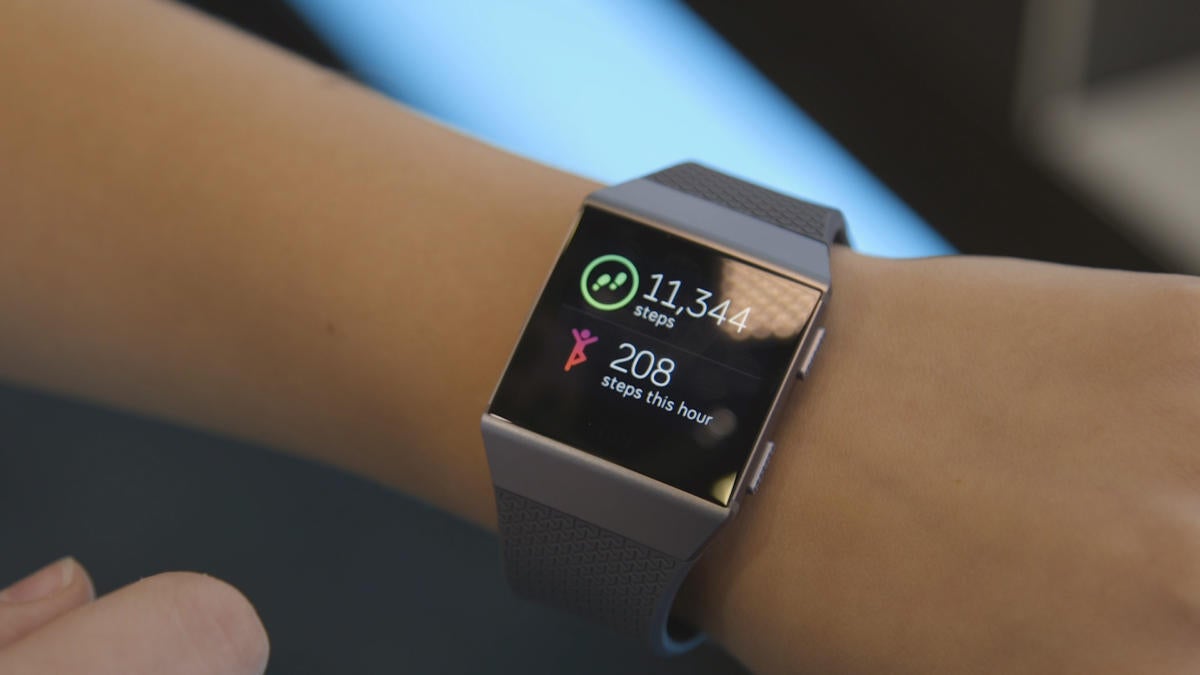 The 24/7 heart rate monitoring lets you stay on the top of your health trends over time. The personalized cardio fitness score would give you a better idea of your fitness level and help you understand how you can improve.
The signature dual-tone sport band with Adidas-designed clock face makes a stylish fitness tracker that you can wear all day.
Conclusion
While there are numerous fitness trackers ideal for cycling, it is important to look for the right combination of battery life, display, water-resistance and reliable GPS to get a device that suits your needs.
Some of the best fitness trackers help cyclists monitor their activity level and heart rate and help them track where they are and where they are going. We hope this guide to the best fitness trackers help cyclists choose the perfect companion for your fitness goals.